Editor's note: This is number 26 in a series of posts by Dennis Horne, sharing quotes from his book, Determining Doctrine: A Reference Guide for Evaluating Doctrinal Truth. You can read the introductory post here. The first part of each post is a new introduction, placing the quotes in context with contemporary issues. The quotes that then follow are from the Determining Doctrine book, which contains many quotes that are not readily available elsewhere or are exclusive to the book.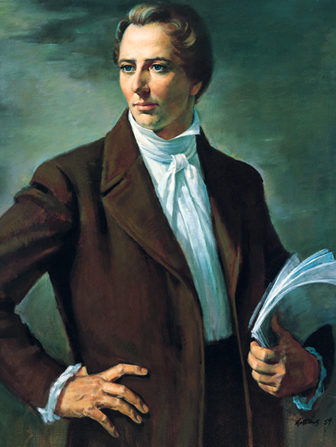 "He called me by name, and said unto me that he was a messenger sent from the presence of God to me, and that his name was Moroni; that God had a work for me to do; and that my name should be had for good and evil among all nations, kindreds, and tongues, or that it should be both good and evil spoken of among all people."
So stated
a resurrected Book of Mormon prophet to a young farmer and day laborer named Joseph Smith. Was ever there a prophecy that proved to be truer? Prophets, apostles, missionaries, and good faithful Latter-day Saints everywhere do much to fulfill the speaking of the "good" while others in the world diligently strive to do all that they can to fulfill the "evil" part of the prophecy. And the sad reality is that the internet has made it easier than ever to lie about and slander Brother Joseph, and call it truth.
Twenty-five years ago if someone got angry enough to make a fuss and rant about the Prophet, they had to expend time and significant monetary resources to gather enough lies and half-truths, put it on paper, and then print and distribute it. Now anyone can do it with a website. And what one of the devil's dupes can post, another can copy and repost; such is the state of our modern proliferation of online falsehood.
Yet the next life is not far distant, and judgment awaits.
Many years ago I was browsing in a used bookstore when a very old man entered and struck up a conversation with the bookstore owner, also not young. The old man was bent over with age and walked with a cane. He explained that he had just finished writing another self-published book about Joseph Smith and how he thought he had really got Joseph this time (he had written another anti-Mormon book decades before also). He wanted the store to carry his latest critical effort; the owner, being of like mind, discussed ordering details with him. The old man then left and though I never saw him again, I did hear of his passing not long afterward. I then thought to myself: "here is a man with nine toes in the grave and yet with (figuratively) his last gasp of mortal breath he is cursing a prophet of the Lord in permanent print—fully knowing what he is doing, with malice aforethought."
[1]
So likewise do the multitudes of bloggers and websites and reporters that seek to blacken the Prophet's name and life's work. When the bookstore owner soon followed the old man into the next life, it gave me further cause to ponder and consider their fate as spoken of in the scriptures: "But unto the wicked he did not go, and among the ungodly and the unrepentant who had defiled themselves while in the flesh, his voice was not raised; Neither did the rebellious who rejected the testimonies and the warnings of the ancient prophets behold his presence, nor look upon his face. Where these were, darkness reigned" (D&C 138:20-22; section 19 is even more cautionary).
When my time nears I hope to be acting wiser as I prepare to meet my Maker. Before I go I want to be doing like
Elder Bruce R. McConkie did
, and so many others have, testifying of the living reality of Jesus Christ as the Son of God and the Savior of the World, and of the divine mission of the Prophet Joseph Smith.
Matthias Cowley (father of Elder Matthew Cowley), shared this reminiscence wherein he learned about the consequences of defending the Church (and Joseph and Brigham, etc.):
One of my pleasant memories of a visit to President Woodruff's farm home in Waterloo Ward after I had moved to Idaho, was on an occasion when I took with me a lawyer gentleman from Northern Idaho, who with myself was attending the TransMississippi Congress in Ogden. I told Bro. Woodruff how this man David Franklin Mahana by name had defended the Latter Day Saints in the Idaho Legislature, from verbal assaults made upon them by bitter Anti-Mormons. Bro. Woodruff was sick in bed at the time, but when I made those remarks he rose up in bed and said in a most positive manner: "The Lord will bless any man who will defend the Latter Day Saints against the attacks of their enemies." I knew the later history of this man David F. Mahana who was indeed blessed as predicted by Brother Woodruff. (Matthias F. Cowley, at University of Chicago, October 4, 1925, LDS Church History Library, MS F 559).
I hope that the below solemn declarations (as found in
Determining Doctrine
) are taken seriously, for they will one day reflect reality:
Stephen L Richards:
Not a few of these snipers delight to take a shot at Joseph Smith. In some surprising way it has become somewhat popular, stimulated, I presume, by books which have been written for students and scholars, to undertake exhaustive research into the life of this great man. In some instances, perhaps, the purpose of the research projects may be laudable, to exploit the great and noble things in the life and works of the Prophet, but in all too many instances I fear the purpose of the research is merely exploratory, with the hope of discovering something that would make for sensational reading and perhaps a profit for the writer. I have never been able to discover any very substantial reason for these researches other than that I have just mentioned.
Here is a life recently lived. Many of us here in this assembly today have known and talked with persons who knew the Prophet, and yet you would think from the way the researchers go after him that he was a person of great antiquity, and that something in the nature of excavation for prehistoric materials had to be undertaken to discover the facts of his life. I doubt if there is a person who has lived in the last two centuries whose life is more fully documented than that of this man, unless perchance it be among royalty or those in high public office.
Almost every important event in his life has been recorded by himself, by his mother, and by those who immediately knew him. His life is not a mystery; it is an open book, at least to members of the Church who have access to the knowledge which he brought to the world.
I rebuke the members of the Church who cast aspersion upon the honored name of the Prophet Joseph Smith, and who in any manner disparage his noble work. By so doing they destroy faith, their own and that of others, and the Lord will hold them accountable. (Conference Report, October 1951, 117.)
Stephen L Richards (continued):
Having that knowledge and a deep reverence for his illustrious name, I deplore and resent the miserable attempts made to discredit him; and I predict that they will all come to naught, that he will survive every attack, that he will yet win the esteem and respect of all good men, and that the Father has already glorified him. (Conference Report, October 1951, 118.)
Harold B. Lee:
I have one other thought I should like to express. Brigham Young was a great defender of the Prophet Joseph Smith. There were Judases in the ranks in that day, just as there were in the Savior's day, and just as we have today, some who are members of the Church who are undercutting us, who are betraying their trusts. We are shocked when we see the places from which some of these things come.
Brigham Young was invited by some of these men who were trying to depose the Prophet Joseph from his position as President of the Church; but they made a mistake by inviting President Brigham Young into their circle. And after he had listened to what their motives were, he said something to this effect: "I want to say something to you men. You cannot destroy the appointment of a prophet of God, but you can cut the thread that binds you to the prophet of God, and sink yourselves to hell." (Conference Report, October 1972, 129.)
Matthias F. Cowley:
Once when I went to visit President Woodruff on his farm in his declining years, he took me into his confidence and told me things about the great character that Brigham Young was, and his superiority to many others in a way that I had never heard before. (October 4, 1925, LDS Church History Library, MS F 559)
Hugh Nibley:
We now stand as a brainless giant, a pushover for any smart kid or cultist or faddist or crank who even pretends to have read a few books. That puts them beyond our depth and so we…stand helplessly and foolishly by dangling our bonnet and plume while hundreds of students and missionaries, of members and enemies of the Church alike, presume to challenge and reject the teachings of Joseph Smith on evidence so flimsy that no half-educated person would give it a second thought. How can you hope to make these people see that the documents and discoveries they hail with such reverence and delight for the most part went out of date in the 1930's; that Huxley, Breasted, Wellhausen, and Frazer do not represent present-day scientific thought; that one book does not settle anything? No one has ever told them of the new discoveries which every month call for revision of established scientific and scholarly beliefs. No one has ever told them what it means to lay a proper foundation essential to any serious discussion of the things they treat so glibly and triumphantly. No one has ever told them of the millions of unread documents that already repose in our libraries, holding the answers to countless questions that must be asked before they can justify their instant conclusions. An awesome outpouring of newly-discovered documents of direct bearing on the history and teachings of the Church is even now in full spate, amazing and confounding Jewish and Christian scholars, but bursting with good news for the Latter-day Saints—who ignore them completely. ("Educating the Saints—a Brigham Young Mosaic," BYU Studies, vol. 11 [1970-71], Number 1-Autumn, 1970, 86.)
---
[1]
Because of a family-friend connection, I knew some things about this man and why he had chosen to do as he did with his life. He has earned his reward and will receive it.