Editor's note: This is the eighth in a series of posts by Dennis Horne about collectible books. The introduction is here.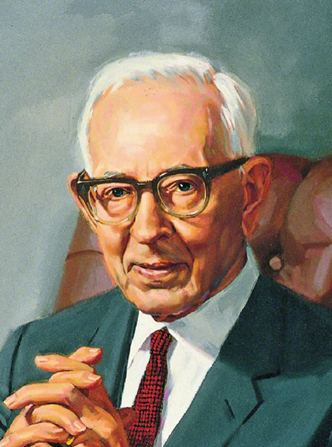 "In interviewing teachers and other members of the Church President Smith discovered there were so many misconceptions and so much ignorance about gospel principles and church history, that he accepted an invitation from his neighbor, Richard L. Evans, editor of the monthly Improvement Era (now The Ensign) magazine to conduct a question and answer column, entitled 'Your Question,' which began in May of 1953 and was continued for nearly 14 years, until March 1967. This became probably the most popular feature of the magazine. The questions answered by President Smith with the addition of several from personal correspondence were later published in five volumes, Answers to Gospel Questions, from 1957 to 1966, compiled and arranged by his son, Joseph Fielding Smith, Jr.
"Frequently in his journal through these years President Smith noted the tremendous amount of time it was taking to conduct this column. In 1963, for instance, after 10 years at it, he observed, 'Since I accepted the invitation of the Era to answer questions I have been flooded with them. Some are good interesting questions and many are not. I do not endeavor to answer them all…. I receive a great number of letters containing all kinds of questions. Some of them are worthy of answers and many are not. This takes a great part of my time. Some of the questions I ignore when they are unworthy…. Some are asking for explanation of mysteries or things that are foolish or at times that a small child should be able to answer'" (Smith & Stewart, Life of Joseph Fielding Smith, 320).